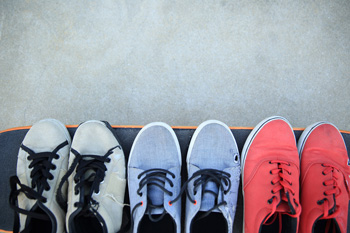 Sometimes, the more options to choose from, the tougher it is to decide. Running shoes fall right into this category; with so many choices out there, it can be hard to find the right pair. There are some things to look for that should narrow down the search. First, look for a shoe that will work in whatever terrain you run in. Think running shoes for roads and the track, and opt for trail running shoes for the trails. Second, look for shoes that match your foot strike. Those who overpronate should look for shoes that can help correct that. Don't get too caught up in foot strike, however; above all, go for comfort. Shoes should be comfortable to run in for long periods of time. Just make sure your toes have enough space to move around, and ensure the shoe is snug but not too tight.
If you are a runner, wearing the right running shoe is essential. For more information, contact Dr. Michael E. Newman from Pennsylvania. Our doctors can provide the care you need to keep you pain-free and on your feet.
Choosing the Right Running Shoe for Your Foot Type
To increase performance and avoid the risk of injury, it is important to choose the right running shoe based on your foot type. The general design of running shoes revolves around pronation, which is how the ankle rolls from outside to inside when the foot strikes the ground.
Neutral runners are able to choose from a wide variety of shoes, including minimalist shoes or even going barefoot.
Runners who overpronate, or experience an over-abundance of ankle rolling, should choose shoes that provide extra motion control and stability.
Runners who underpronate, or supinate, have feet that have high arches and lack flexibility, preventing shock absorption. They require shoes with more flexibility and cushion.
If you have any questions please feel free to contact one of our offices located in Plymouth Meeting and Ambler, PA. We offer the newest diagnostic and treatment technologies for all your foot and ankle needs.
Read more about Choosing the Right Running Shoe for Your Foot Type